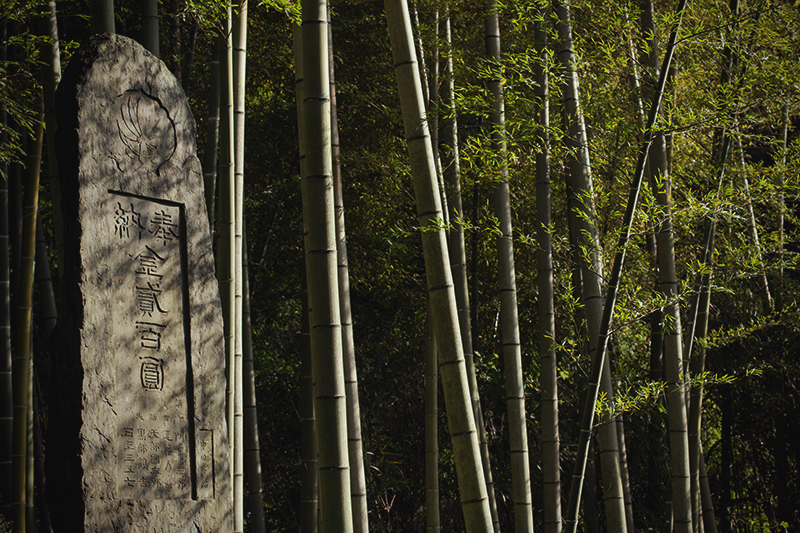 Im Zug nach Yokohama kamen mir erste Zweifel. Was, wenn Japan doch nicht das zu bieten hätte, was ich mir vorstellte?

Hin und wieder blitzte Sonnenlicht durch das Abteil, dem meine Augen an diesem Morgen nicht gewachsen waren. Ich schloss sie und stellte mich schlafend. Als ich sie wieder öffnete, fühlte ich mich von meiner Jugend ertappt. Wer braucht schon Schlaf?
Eine breite Straße beugt sich dem Touristenfluss. Abseits der Massen entdecken wir einen Pfad in den Bergen. Der Wunsch, mit der Natur allein zu sein, steigt, wie so oft, in mir auf und verschwindet sogleich inmitten der Einsicht, dass es so etwas nicht mehr geben kann. Auf einen Baum klettern, um sich von der Erde loszureißen. Vom Baum herunter springen, um mit den Füßen wieder festen Boden zu spüren.
Das Meer liegt ruhig und gelassen im Violett des Abendhimmels. Ist die Luft wirklich so klar oder warum atme ich so tief ein? Als mein Blick in die Ferne schweift, meine ich hinter der Dünung etwas ausmachen zu können. Nichts Besonderes, nur ein friedlicher Ort zum Verweilen, ein Bett der Heilung.
Später ist mir klar, dass Japan alles und nichts zu bieten hat. Genau wie die Entscheidung, morgens aus dem Haus zu gehen oder liegen zu bleiben, alles und nichts bedeuten kann. Genau wie die Möglichkeit, alles zu riskieren und eventuell zu verlieren. Genau wie das Leben selbst.
---
Inside the train to Yokohama, I had some first doubts arising. What if Japan couldn't offer me what I expected?
Here and there, sunlight sparkled through the compartment, which my eyes couldn't bear that morning. I closed them and acted sleeping. When I opened them again, I felt caught red-handed by my youth. Who actually needs sleep?
A wide street bows under the tourist river. Besides the masses, we discover a path in the mountains. The wish to be alone with nature arises once again inside of me, and disappears almost immediately within the insight that there is nothing like this anymore. Climbing a tree in order to break away from the soil. Jumping off the tree in order to feel solid ground with your feet again.
The sea lies calmly and placidly in the violet of the evening sky. Is the air really so pure, or why do I inhale so deeply? As my view sweeps afar, I mean to recognise something behind the swell. Nothing special, only a peaceful place to linger, a bed of cure.
Later, I realise that Japan offers everything and nothing. Like the decision to leave the house in the morning or to stay in bed can mean everything and nothing. Like the possibility of risking everything and losing eventually. Like life itself.