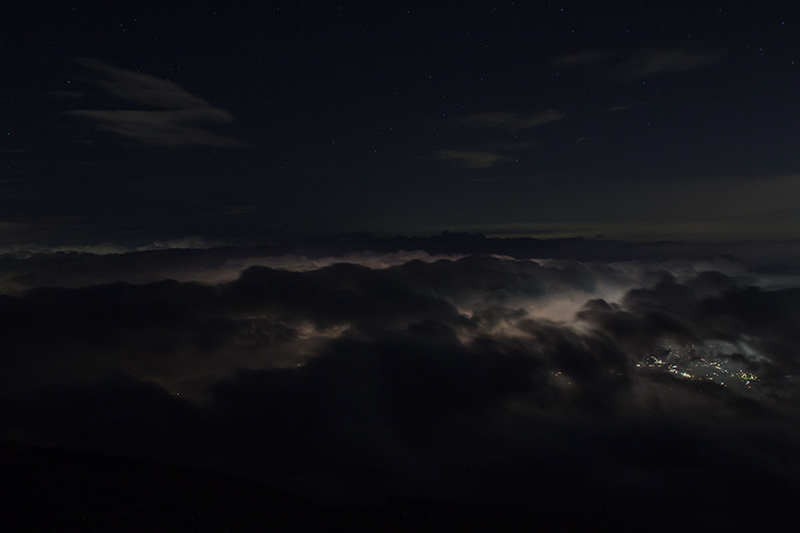 Mit Verlaub, Herr Fuji, Sie sind ein Arschloch.

Hat mich der eine Monat in Japan etwa schon weich gemacht? Dabei lief anfangs noch alles wie am Schnürchen. Mit elfenhafter Leichtigkeit schwebte ich den Berg empor. Meine Laufschuhe versprühten das Gefühl sportlicher Glanztaten jener glorreichen Tage. Überhaupt musste Fuji-san der Prämisse herhalten, den Brockenlauf dieses Jahr zu ersetzen. Ein schweres Los.
Auf einmal wurde es kalt. Und dann steht man da auf 3200 Metern Höhe in einem vermeintlich stillen Örtchen, aus dem noch Wärme strömt. Zur Verstärkung der seriösen Absichten erstmal ein Buch lesen. Bis der strenge Geruch mir zu Kopf steigt und ich raus muss. Die dem Tierreich entnommenen Geräusche der Analtrompeter und sich Erbrechenden, ließen mich der trügerischen Wärme nicht lange nachtrauern.
Dann harre ich halt noch drei Stunden auf dem Gipfel aus. Gesicht eingefroren, Mimik weg, Kiefersperre. Und dann kam er. Der Sonnenaufgang schlechthin. Plötzlich laufen die Synapsen Amok, Wärme kehrt in den tauben Körper zurück. Gerade will sich mein Gesicht zu einem Lächeln hinreißen, als mein Kiefer mir unter Schmerzen die Grenzen vertikaler Ausdehnung aufzeigt.
Unten angekommen lasse ich Katharsis in mir walten. Ja, das muss irgendwas bedeuten…
---
By your leave, Mr Fuji, you are an asshole.
One month since I came to Japan. Am I already that weak? Actually, things went very smooth in the beginning. With elf-like ease I floated up the mountain. My running shoes reminded me of my glorious, highlight-peppered sports days. Fuji-san even had to serve as a replacement for this year's "Brockenlauf". Mixed feelings.
All of a sudden, it got cold. And then you're standing at 3,200 metres and the only warm place around is… the loo. Enhancing my serious intentions, I start reading a book. Until the smell reaches my brain and I feel like I need to go out. Noises taken from the animal world of those anal trumpeters and those puking, let me soon forget the benefits of the warm location.
So, what's the point of holding out three hours on the peak? Face frozen, so is the facial expression, jaw blockage. And then it happened. THE sunrise. Suddenly, the synapses freak out, warmth returns to the numb body. As my face just tries to force itself into a smile, my jaw shows me in pain the limitations of vertical expansion.
Back down, I let catharsis roll over me. Yes, this gotta mean something…