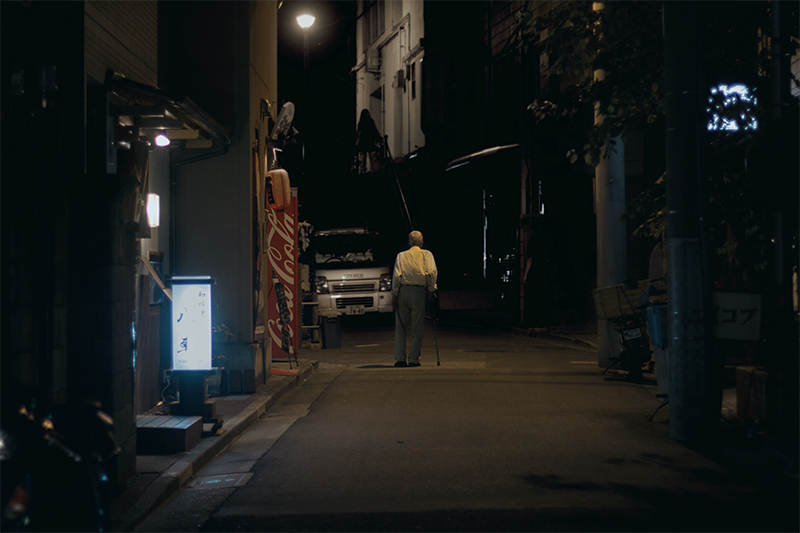 Wild hetzend jage ich die Straße entlang. Links schauend, dann rechts, geradeaus, zurück. Das Ganze zwei-, dreimal wiederholend. Ich bin ehrlich, gestehe mir ein, dass ich wieder einmal nicht weiß, wo ich bin. Ich wünsche mich in eines der altehrwürdigen Computerspiele, in denen es nur eine Richtung gibt. 2D wäre jetzt super, völlig ausreichend. Scheiß auf Google Street View, scheiß auf mein Gedächtnis, scheiß auf meinen Orientierungssinn. Wieder zurück, wieder zur Station, wieder zum Ausgangspunkt. Vielleicht nochmal einen anderen Weg. Warum auch nicht?
Nach einigen Minuten gelange ich zu einem Tunnel. Zögernd, doch voranschreitend. Und dann wird mir schlagartig klar: Das muss es sein, dieser verglaste Elfenbeinturm, in denen die Geschäftsmenschen jahrelang schuften, ohne jemals das Licht der Erkenntnis zu erblicken oder überhaupt einen Blick auf platonisch verschwimmende Schatten zu erheischen. Rechts, dann wieder rechts und ich erblicke ein zweistöckiges Gebäude, reiße die Tür auf, gehe zielgerichtet und schweißgebadet auf die erste Person zu, die ich erblicke: Ein älterer Mann, grauhaarig, gefasst, doch seine Fassade bröckelt schnell.
Ich erkläre, dass ich hier wäre für ein Bewerbungsgespräch. "Jobinterview, ja genau." Er versteht mich nicht. "Jobinterview, Jobinterview? Hai! Nein, nein, kein Jobinterview." "Doch, doch, E-Mail, Jobinterview, heute." "Ah, Jobinterview? Hai. No Jobinterview." Wut steigt in mir auf, Aggressivität droht mich zu übermannen. "E-Mail?" "Hai!" Als ich die Visitenkarte erhalte, bemerke ich, dass ich falsch bin, eindeutig. Also wieder raus, die Treppen hoch hechtend, Haare im Spiegel zurechtrückend, erreiche ich den Pub eine halbe Stunde zu spät. Nach Luft schnappend rufe ich Jobinterview" und werde von einer japanischen Bedienung abfällig gemustert. Die ersten Gäste öffnen die Tür hinter mir und, ihre Blicke deutend, wird mir klar, ich bin zu spät, auch hier: kein Jobinterview. Dabei war ich mir sicher, dieses eine Mal wäre mir der Erfolg sicher. Mir war bewusst, dass ich den Job nicht bekomme, ihn auch nicht annehmen würde, ihn nicht einmal wollte. Was ich wollte, war so viel simpler, um so vieles schöner, um so vieles schwärzer: Ein kühles, im Dunkeln schimmerndes, erfrischendes, alle Strapazen vergessen machendes, vor allem kostenloses Guinness. Aber auch dieses war mir nicht vergönnt.
---
I run along the streets like wild. Looking left, right, straight and back. The whole thing another two or three times. I'm honest, I admit I don't know where I am, again. I wished to be part of one those unforgettable computer games that had but one direction. 2D would be marvellous now, completely sufficient. Fuck Google Street View, fuck my memory, fuck my sense of orientation. Back again to the station, back to square one. Maybe another way, why not?
After some minutes, I reach a tunnel. Hesitating, but still proceeding. Just to understand: This must be the place, the glass building in which the business people drudge for years without ever seeing the light of knowledge or taking a look at platonically blurring shadows. To the right, right again and I can see a two-story building. I pull the door, walk sweating towards the first person I get to see: An elderly man, grey-haired, calm, but his façade is tearing apart soon.
I explain I was here for the job interview. "Job interview, yes!" He doesn't understand me. "Job interview…, job interview? Hai! No, no, no job interview." "Yes, yes, email, job interview, today." "Ah, job interview? Hai. No job interview." Rage is soaring inside of me, aggression is nearly taking control over me. "Email?" "Hai." As I am handed over his business card, I realise I'm wrong, undoubted. So, back outside again, I'm jumping up the staircase, fixing my hair in the mirror, reaching the pub half an hour late. Catching my breath, I shout out "job interview" and am looked at derogatively by a Japanese waitress. The first guests open the door behind me and their views indicate I am late; again no job interview. Although I was certain that this time the success would be mine. I was aware, though, I wouldn't get the job, wouldn't accept or even want it. What I wanted was so much simpler, nicer and darker as the night: A cool, refreshing, worth all pains and, most importantly, free Guinness. But, guess what? I didn't get one.