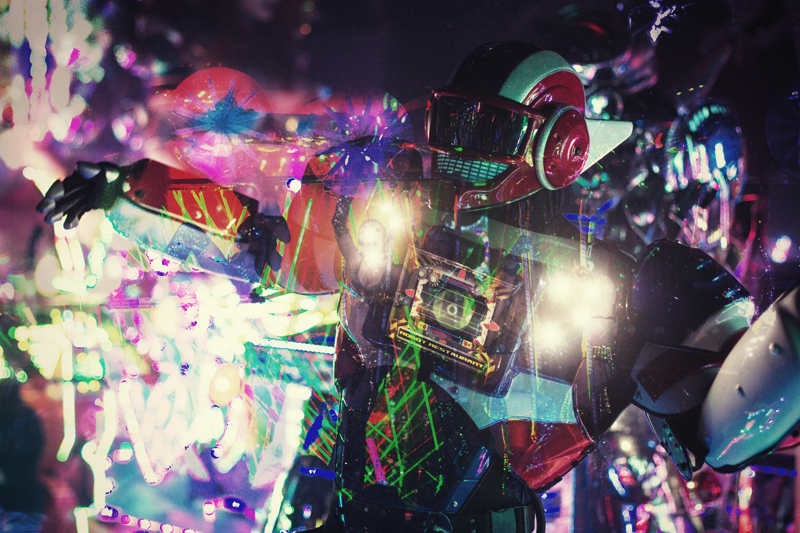 Was war passiert? Es geschah wie im Rausch. Der Ort des Geschehens war mittlerweile leer, nur ein blutverschmiertes Stück Möhre befand sich in der Hand des Kommissars. Überwältigt von seinen Gefühlen, lässt er seine Erinnerungen Revue passieren:
Gräfin Porno blies den Eingangsmarsch. Eine abgelegte Yakuzabraut mit Rückentattoo – letzte Anlaufstelle Robobar. Aber dafür mit Trompete. Es rumpelte mächtig im Gemächt des Kommissars, er konnte das Nachbeben noch in seiner Hose spüren. Todesständer! Schon lange war er nicht mehr so erregt gewesen. Dann Trommeln. Ein Holztor öffnete sich und heraus kam eine Dinosaurier reitende Tittenkriegerin mit Morgenstern. Die Roboter auf der anderen Seite zeigten sich wenig beeindruckt. Auch die per Flugsaurier eingeflogene Verstärkung konnte ihnen nicht gefährlich werden. Das Tor schloss sich, um kurz darauf etwas noch Furchteinflößenderes hervorzubringen: einen Panda auf einer Riesenkuh. Zusammen mit den halbnackten Kriegerinnen hatten die Roboter dem seltsamen Zusammenschluss aus Mensch und Tier nicht mehr viel entgegenzusetzen. Doch die Roboter schlugen ein letztes Mal mit aller Gewalt zurück. Die wehrlosen Frauen an im Kreis rotierende Deckendübel gefesselt, vermochte Kommissar Riemenschneider nicht mehr zu urteilen, wer hier noch gegen wen kämpfte und ob der Kampf nicht schon längst in eine riesige Orgie ausgeartet war. Laserstrahlen durchdrangen die zum Bersten gespannte Luft wie Lustraketen, er selbst fuchtelte wie besessen mit Leuchtstäbchen herum, auch um seine Latte runterzuwedeln. Sodom und Gomorra. Dann Nebel. Als der Kommissar wieder klar sehen konnte, erkannte er den Höschenfotografen unter einem Roboterkostüm. Reflexartig stürzte er von seinem Sitz und auf den Roboter. Die anderen Zuschauer stürmten panisch aus dem Raum heraus. In einem unvorsichtigen Moment packte der Roboter den Hals des Kommissars und drückte zu. Dem Würgegriff des perversen Roboterfotografen erlegen, schwanden ihm die Sinne. In seiner Jackentasche bemerkte er die Möhre, die er damals im Supermarkt als Manifest für den Unsinn des Kapitalismus geklaut hatte. Mit letzter Kraft zog er die Möhre aus der Tasche und rammte sie seinem Peiniger ins Auge. Ein jämmerlicher Schrei erfüllte den Raum, als der Übeltäter unter Schluchzen aus dem Etablissement rannte.
Angesichts dieser grotesken Gesamtvorstellung kann sich der Kommissar eines hämischen Lächelns nicht erwehren. Wer sollte den Schurken jetzt noch ernst nehmen? Ein Höschenfotograf, der trotz Möhre im Auge unbehelligt unter Röcke knipst – das ist sogar in Japan undenkbar.
---
What had happened? It was like ecstasy. The venue had emptied in the meantime, only a bloody piece of carrot was left in the Commissioner's hand. Overwhelmed by his feelings, he recaptures his memories:
Countess Porn blew the opening march. An abandoned yakuza wife with back tattoo – last refuge Robobar. But at least with a trumpet. It was rumbling tremendously in the Commissioner's lap, he could still feel the aftershock in his pants. Death boner! It's been a long time he was that tense. Then drumming. A wooden gate opened up and a dinosaur riding tit warrior with a mace came out. The robots on the opposite side were fairly unimpressed. Even the reinforcement flown in by the pterodactyl didn't bother them too much. The gate closed, only to release something way more terrifying: a panda on a huge cow. Together with the half-naked female warriors, the robots didn't have much to put against the strange cooperation of man and animal. Yet the robots were bringing it up again with all power one last time. With the defenceless women tied up to hangers on the ceiling moving in a circle, Commissioner Riemenschneider was not able to tell who was fighting against whom and whether the fight hasn't already degenerated into a massive orgy. Laser rays were pervading the almost bursting air like lust rockets while he was waving about with glow sticks like mad, also to wag down his boner. Sodom and Gomorrah. Then fog. As the Commissioner could see clearly again, he recognised the panties' photographer under a robot's costume. In a knee-jerk reaction, he jumped from his seat onto the robot. The other viewers were sallying out of the room in panic. Being careless for a moment, the robot grabbed the Commissioner's neck and choked him. Succumbed to the stranglehold of the perverted robot photographer, his senses slipped away. In his jacket pocket, he noticed the carrot that he had once stolen in that supermarket as a manifest for the nonsense of capitalism. With his remaining powers, he pulled the carrot out of the pocket and rammed it into his tormentor's eye. A miserable scream filled the room when the culprit ran out of the establishment under sobbing.
Facing this grotesque performance as a whole, the Commissioner can't help but smile mischievously. Who could actually take the villain seriously now? A panties' photographer who, despite a carrot in his eye, still snaps under skirts unchallenged – even in Japan unimaginable.