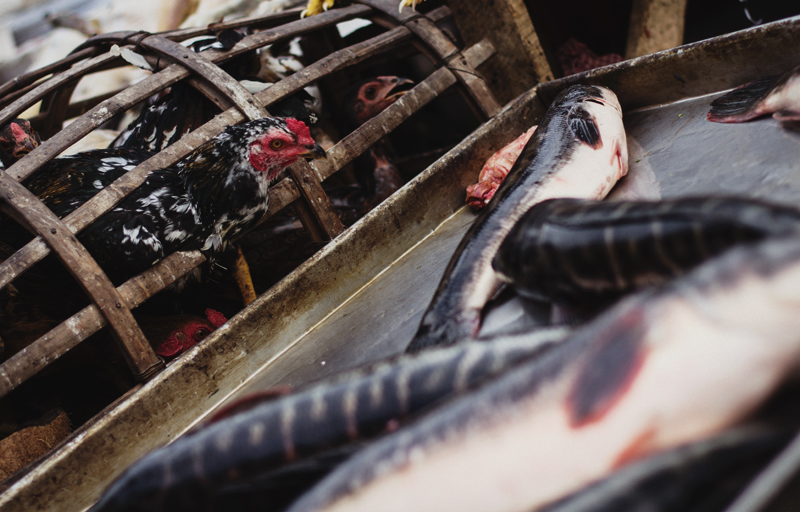 Nach der Aktion im Stundenhotel musste sich Kommissar Riemenschneider also eine neue Bleibe suchen. Die Wahl fiel aus Kostengründen auf eine Wohngemeinschaft, wo er sich Badezimmer und Küche mit Japanern teilen muss. Um Streitigkeiten zu vermeiden, hisste er noch am Einzugstag die deutsche Flagge in der Küche. Seitdem gehört der Raum quasi ihm allein und das scheue Japanervolk traut sich nur noch zum Toilettengang aus ihren Zimmern. Wie schön die Ruhe auch sein mag, so anstrengend ist doch ihre Konsequenz. Der Kommissar sieht sich zum Kochen genötigt. Gar nicht so einfach als Aggrotarier. Er kann Tiere partout nicht leiden, aber deswegen isst er sie noch lange nicht.
Im Supermarkt erblickt sein scharfsinniges Auge eine einzeln verpackte Möhre. Aber was soll denn das? 1,50 € für eine beschissene Möhre? Drei Mark? Aus Protest steckt sich der Kommissar die Möhre unauffällig in die Jackentasche. Im Kühlregal findet er einen ganzen Fisch. Stirnrunzelnd wundert er sich darüber, welchen Sinn es hat, so einen Fisch aus den tiefen des Meeres zu ziehen, seine Innereien rauszukratzen, ihn sorgfältig wieder zuzuklappen, mit Folie zu überziehen und ein Preisetikett draufzukleben. Andere Tiere werden wenigstens bis zur Unkenntlichkeit zersägt, Fische dagegen schamlos im Ganzen zur Schau gestellt. Kein "Happy Fisch". Verärgert kauft der Kommissar schließlich Tomate, Paprika, Tabak, Kartoffel – Nachtschattengewächse; und kocht sich daraus ein leckeres Süppchen.
Das Tokioter Nachtleben steht im krassen Gegensatz zur deutschen Provinz. Überall Lichter, Lärm und strömende Menschen. Auf der Suche nach einer Bar verlief sich der Kommissar wie eigentlich immer. An einer belebten Straße vernimmt er seltsame Geräusche. Als er sich umdreht, traut er seinen Augen kaum. Roboterfrauen werden auf einem Anhänger durch die Straßen gefahren. Er folgt dem Gespann bis zu einer Kreuzung. Von den Maschinenwesen geht eine Anziehungskraft aus, der sich der Kommissar nur schwer entziehen kann. Plötzlich fangen die Roboter an, wie wild zu blinken. Mit blechernen Stimmen verkünden sie irgendetwas auf Japanisch oder Außerirdisch, wen kümmert das schon? Der Kommissar setzt beherzt zum Sprung an und krallt sich am Bein des einen Roboters fest, noch bevor die Ampel auf Grün springen konnte.
---
After the transient hotel incident, Commissioner Riemenschneider had to search for another place to stay. He chose a share house due to monetary reasons where he has to share bathroom and kitchen with Japanese. In order to avoid quarrels, he was flying the German flag in the kitchen on his moving-in day. Since then, the room belongs to him alone, so to say, and the shy Japanese people only dare leaving their rooms to go to the toilet. How nice the calm might be, so arduous is its consequence. The Commissioner sees himself obliged to cook. Not so easy as an aggrotarian. He doesn't like animals at all, but that's not enough of a reason for him to eat them.
In the supermarket, his sharp-sighted eye glances at a separately packed carrot. But what the hell is this? 1,50 € for a fuckin' carrot? Three D-Mark? As a sign of protest, the Commissioner puts the carrot in his jacket pocket without ostentation. In the multideck cabinet, he finds a whole fish. Frowningly, he wonders about the sense of pulling such a fish from the depths of the sea, scraping out its intestines, carefully clapping it again, covering it with foil and putting a price tag on it. Other animals, at least, are fouled up beyond all recognition, fish, in contrast, are shamelessly displayed as a whole. No "Happy Fish". In an angry mood, the Commissioner eventually buys tomato, bell pepper, tobacco, potato – solanaceous herbs; and prepares himself a yummy soup.
Tokyo's nightlife is tremendously contrary to the German province. Lights, noise and streaming people everywhere. Searching for a bar, the Commissioner got lost, as usual. At a lively street, he perceives strange sounds. As he turns around, he can hardly believe his eyes. Robot women are driven through the streets on a trailer. He follows the team until the next crossing. There is a drawing power coming from the machine beings, which the Commissioner can barely resist. All of a sudden, the robots start blinking wildly. With tinny voices, they proclaim something in Japanese or alien language, who actually cares? The Commissioner courageously jumps onto the trailer grabbing one of the robots' legs, just before the traffic light could switch to green.