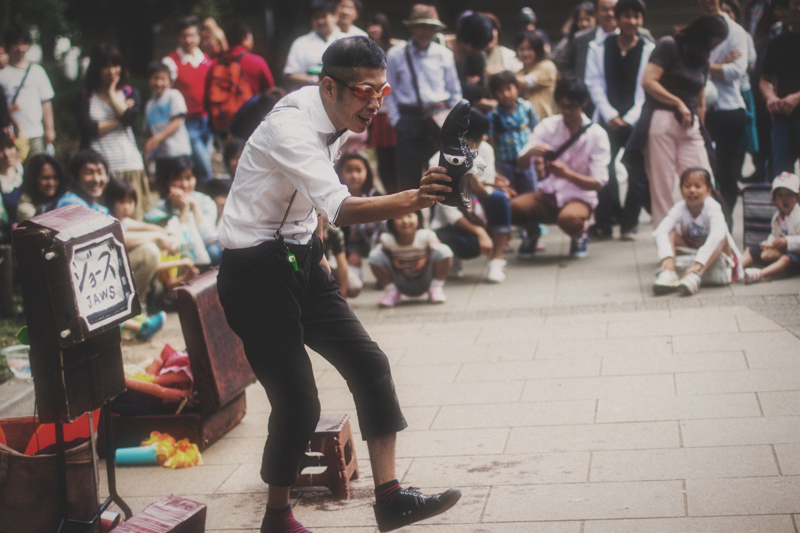 Was hatte ihn nur in dieses Land verschlagen? Winzige Leute, die sich zudem andauernd verbeugen und mit Schlitzen anstatt Augen, dazu eine Schrift, die er beim besten Willen nicht entziffern kann. Nun, ein Schlitzohr wie er eines ist, ist schon mit ganz anderen Situationen fertig geworden. Trotzdem bereut er den Tag als er, Kommissar Riemenschneider, wegen übertrieben brutaler Auslegung seiner Berufskompetenzen nach Japan strafversetzt wurde.
Dabei liegt ihm sein letzter Fall noch schwer in den Knochen. Im Thailandsommerurlaub, den ihm seine Frau aufzwang, kam Kommissar Riemenschneider überraschend den fiesen Machenschaften eines Schlüpferkartells auf die Schliche. Mit einem guten, fast überheblichen Gefühl kaufte er damals stapelweise Unterhosen aus den renommierten Modehäusern Europas, den Etiketten nach zu urteilen. Er vergaß dabei die Umrechnung Thai-Mensch zu Europa-Mensch und die ihm vertraute L-Größe stellte sich als schlimme Eierfolter heraus. Am schlimmsten war aber, dass sich durch mangelnde Blutzufuhr sein Sitzgebälk blau färbte. Kein schöner Anblick, meinte auch seine Frau und ließ ihn eine Woche nicht ran. Mit flockendem Saft kann ein Kommissar Riemenschneider keinen Fall lösen. Wieder zurück in der deutschen Provinz ließ er daher seine angestauten Emotionen an einer Horde wehrloser Schafe am Wegesrand aus. Unglücklicherweise fuhren seine Kollegen an diesem Tag an besagter Straße Streife. "Riemenschneider!", schrie ihn der Hauptkommissar am Folgetag vor versammelter Mannschaft zusammen. "Unverantwortlich!", "Am helllichten Tage!", "Schande!" und "Japan!" waren die Worte, die ihm im Gedächtnis haften blieben.
---
How did he end up in this country after all? Tiny people who are bowing all the time and with slits instead of eyes, moreover a script that he can't decipher, not by any stretch of his imagination. Well, a rascal like him has dealt with way worse situations before. In spite of that, he regrets the day when he, Commissioner Riemenschneider, was transferred to Japan for disciplinary reasons due to an exaggeratedly brutal interpretation of his job competencies.
His last case was still bothering him. During his Thailand summer vacation, to which his wife forced him to join, Commissioner Riemenschneider surprisingly saw through the game of a panties cartel. With a good, almost boastful feeling, he was buying underwear by the pile from Europe's renowned fashion stores, according to the etiquettes. He forgot the conversion Thai-people to Europe-people, though, and his familiar L-size turned out as bad ball torture. However, the worst thing was that his buttocks turned blue due to the lack of blood supply. Not a particular nice sight, his wife thought as well and didn't let him come onto her for one week. Commissioner Riemenschneider can't solve a case when sapless. Back in the German province, he therefore uncharged his pent-up emotions on a defenceless herd of sheep along the way. Unfortunately, his colleagues were patrolling the aforesaid street. "Riemenschneider!", the chief commissioner shouted at him in front of the entire personnel. "Irresponsible!", "At the light of day!", "Shame!" and "Japan!" were the words he kept in mind.