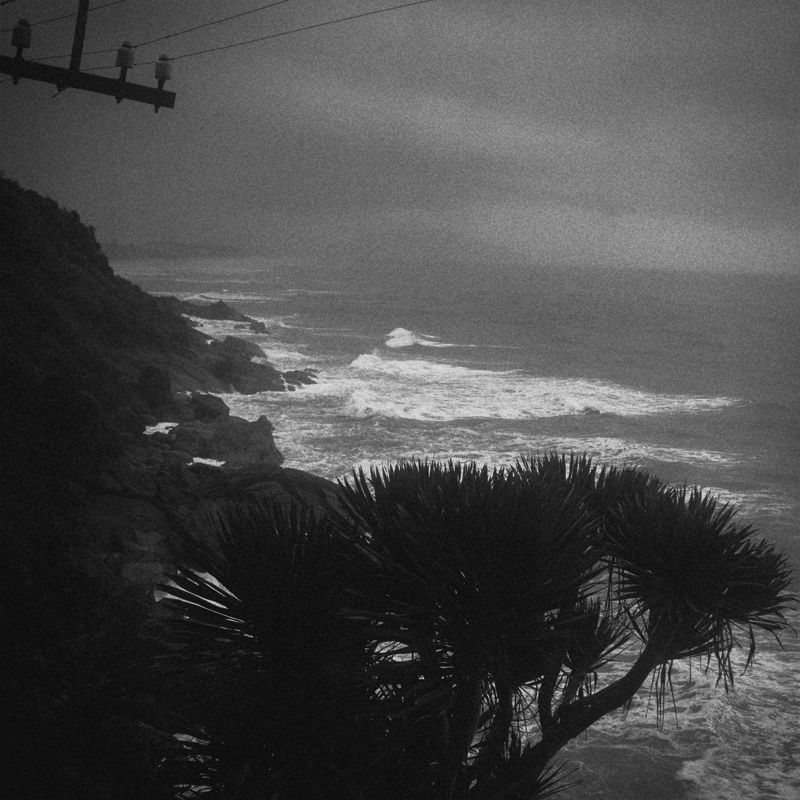 Natürlich erreicht man auch irgendwann den Punkt, an dem man sich fragt, was das denn eigentlich alles soll. Warum reisen wir und schwitzen in schäbigen Baracken, laufen schwer bepackt von einem Hotel oder Hostel zum nächsten um nach Preisen zu fragen und dann weiterzuziehen und ein paar Euro zu sparen? Die Unterkünfte ähneln sich, die Städte ähneln sich. Weiße oder weißgepunktete Laken und schöne Tempel, hunderte schöne Tempel und hunderte Straßen und tausende und zehntausende Menschen. Und das alles verwirrt sich zu einem unsinnigen, dreidimensionalen Film, in der die Tiefe kaum einen Sinn ergibt. Bruchstückhafte Bilder, die aus der Leinwand ragen wie die verzerrten un-menschlichen Wesen Francis Bacons. Es ist eine Form von Kontinuität und Stabilität, der jegliche Art zeitlicher Substanz abhanden gekommen ist.
Wenn ich darüber nachdenke, erscheint alles wirrer und lächerlicher. Wir sitzen im Zug von Saigon nach Huế, der alten Hauptstadt Vietnams, und überqueren den 'Wolkenpass', die natürliche Grenze zwischen Nord- und Südvietnam. Feuchte, kühler werdende Luft und das spürbare Ächzen der Züge oder Landschaft. Hinter einem Tunnel erblicken wir die Künste. Dunkelgrüne Vegetation, so flächig und dicht und lebendig. Und dann in einer gekrümmten Linie, das Meer tief unter uns, das sich auf die Felsen stürzt mit einer seltsamen physischen Präsenz, die ich noch nie wahrgenommen habe. Ein abstrakter, sehr mächtiger Körper, der sich windet und zusammenzieht und ausschlägt. Dabei aber ganz ruhig ist. Und dann später: Reisfelder im nebligen Regen, Schattenberge am Horizont, sich verneigende Bäume. Rhythmus des Lebens. Alles so lebendig.
Und ich weiß wieder, warum wir reisen und ich damit nicht aufhören kann und weiß es doch nicht zu beschreiben. Es ist sehr einfach und kitschig, aber ich kann darüber lachen.
---
Of course, you'll reach the point some day when you ask yourself what this was all good for. Why do we travel and sweat in dingy shacks, run heavily packed from one hotel or hostel to another in order to ask for prices and eventually keep on walking and saving some euros? The accommodations resemble each other. White or white-spotted sheets and nice temples, hundreds of nice temples and hundreds of streets and thousands and ten thousands of people. And all this gets confused to a nonsensical, three-dimensional movie, in which the depth barely makes sense. Fragmented images poking out of the screen like the blurred inhuman beings of Francis Bacon. It is a form of continuity and stability that has lost any kind of timely substance.
When I think about it, everything appears to be odder and more ridiculous. We are on the train from Saigon to Huế, the old capital of Vietnam, and cross the 'ocean cloud pass', the natural border between North and South Vietnam. Wet cooling air and the rigorous groaning of the trains or countryside. Behind a tunnel we recognise the arts. Dark green vegetation, so vast and tight and vivid. And then in a crooked curve, the sea deeply below us, which jumps at the cliffs with a strangely physical presence that I haven't perceived before. An abstract, very mighty body that winds and puckers up and unfolds. But which is very quiet doing so. And later: Rice fields in foggy rain, shadow mountains at the horizon, bowing trees. Rhythm of life. Everything so lively.
And I know again why we are travelling and I cannot quit it and yet I don't know how to describe it. It is very simple and kitschy, but I can laugh about it.