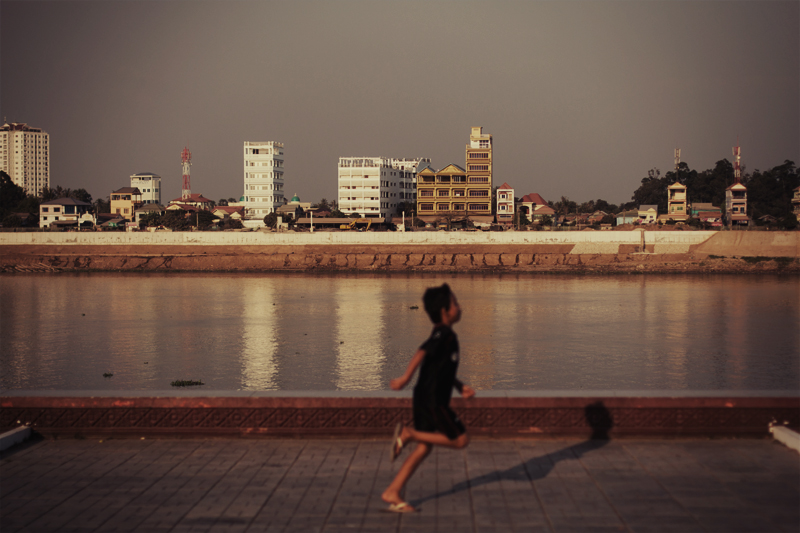 Der König ist gestorben! Irgendwann letztes Jahr. Über das zurückliegende Wochenende hinweg, nahmen die Untertanen in einer viertägigen Zeremonie Abschied von ihrem Monarchen, der schlussendlich öffentlich eingeäschert wurde.
Ein Volk in Weiß. Und auf den Straßen. Schon am ersten Abend in Phnom Penh wunderten wir uns über die Menschenmassen, die sich auf dem Platz vor dem Kaiserpalast versammelten. Menschen, die offensichtlich den ganzen Tag auf dem Platz verbracht hatten und dort sogar ihr Schlaflager errichteten.
Buddhistische Mönche, von jung bis alt, scheinbar aus dem ganzen Land zusammenkommend, erwiesen dem verschiedenen Staatsoberhaupt die letzte Ehre und geleiteten ihm mit ihren Gebeten den Weg in die goldene Unvergessenheit.
Die arbeitende Bevölkerung verfolgte gespannt am Fernseher wie Frau und Sohn des Verstorbenen am prunkvollen Königsgrab für einen Moment lang zu gewöhnlichen Trauernden wurden. Jeden Abend erfüllte das Donnern des Feuerwerks die Stadt. Abgewandte Menschen erschraken, zugewandte strahlten vor Freude. Krieg und Frieden.
Als wir schon auf dem Weg nach Vietnam sind, merkt auch der letzte Kambodschaner: Nie war mehr Anfang als jetzt.
---
The king has died! Some day last year. Over the past weekend, the subjects had been bidding farewell to their monarch, who was publicly cremated at the end of the four-day ceremony.
A people in white. And on the streets. On the first evening in Phnom Penh already, we were wondering about the masses of people that had been gathering on the square in front of the imperial palace. People who had seemingly passed the whole day on the square and had even put up their sleeping places.
Buddhist monks, from young to old, as if coming together from all parts of the country, were paying their last respects to the perished head of state and accompanying him on the way to golden unforgottenness with their prayers.
The working population were excitedly tracking on TV how wife and son of the deceased became ordinary grievers at the magnificent king's grave for a moment. The rumbling of the fireworks hit the city every evening. Averted people dismayed, the one's overlooking beamed with joy. War and peace.
As we are already on the way to Vietnam, even the last Cambodian realises: Now is the point of a new beginning.