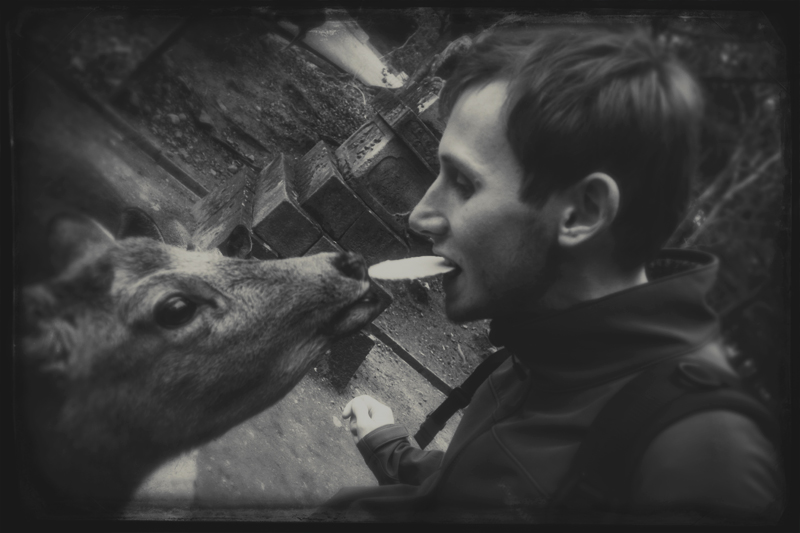 Ich spüre meinen Körper. Die Last auf meinen Schultern, die eiskalte Nase, das Ziehen in den Waden und das Blut in meinen aufgequollenen Füßen. Es ist wieder einmal Zeit, weiterzuziehen.
Das Reisen mit Rucksack ist beschwerlich. Wenn man dazu noch übertrieben sparsam ist, kann das ganz schön schlauchen. Zehn Tage hielt ich im Wohnheim aus. Zwischen all dem Ranz und Muff, bis mir der Körper vom Tragen der immer gleichen Klamotten juckte und mir jeden Morgen eine neue Falte in den Augensack schoss. Die Tage verlebten sich nach dem immer gleichen Schema: Morgens aufstehen, das heißt mittags, da man nachts wegen der Mahjong- oder Kocharien nicht schlafen konnte. Wahllos eine berühmte Sehenswürdigkeit auf der Stadtkarte Kiotos raussuchen und dorthin laufen, Bus- oder Bahnfahren ist schließlich teuer. Abends ins Wohnheim zurückkehren, Dialoge über französische Dialektik führen und wieder nicht einschlafen können, weil die Ehemaligen ihre Rückkehr feierlich mit Sake aus übergroßen Tetra-Paks begießen müssen.
Zwischendurch ein Hauch von Abwechselung, eine andere Stadt. Kobe oder Nara, eigentlich beide. Nun gut, Nara muss reichen. Überhaupt grenzt es an ein Wunder, dass wir es vor dem Sonnenuntergang dorthin geschafft haben. Betrunken und bei Übermüdung bin ich immer besonders albern. Gut, dass dort überall diese lustigen Rehe rumlaufen. Noch schnell einen Keks mit dem Mund aufgehoben und zum Verzehr bereit, als auch schon so ein possierliches Geschöpf auf mich zukommt und ihn mir frech durch geschicktes Zuschnappen stiehlt. Alberner Lars.
Ich kann nicht mehr. Heute steuerten wir schwer bepackt durch Osaka auf der Suche nach dem Schloss. Wir fanden es. Gut sogar. Und jetzt sitzen wir am Flughafen Kansai. Morgen früh geht der Flieger nach Singapur, darauf den Tag weiter nach Kuala Lumpur. Ja, Visitors J brauchen dringend Urlaub, denn ist kalt in Japan und wir haben keine Winterkleidung. Mehr Gründe brauchen wir nicht. Aber wir stehlen uns nicht aus der Verantwortung. Nein, kein Zurücklehnen, kein Verschnaufen, höchstens mal wieder gepflegt durchschlafen, gesetzt den Fall, dass mein Sparsamkeitszwang es mir erlaubt.
---
I feel my body. The weight on my shoulders, the ice-cold nose, the dragging pain in my calves and the blood in my swollen feet. It is again time to move on.
Travelling with a backpack is cumbersome. If you are also extremely economical, things can get very exhausting. I endured living in the dorm for ten days. Between all the filth and stink until my body became itchy from wearing the same clothes over and over and a new wrinkle was added to the area below my eyes each morning. The days passed following the same pattern over and over: Getting up in the morning, i.e. around noon, as we couldn't sleep at night due to the mahjong and cooking feasts. Haphazardly picking a famous sight on the city map of Kyoto and walking there, going by bus or train is expensive after all. Returning to the dorm at night, having dialogues about French dialectics and again not being able to fall asleep as the old boys need to festively water their return with sake from outsized Tetra Paks.
In between, a whiff of variation, another city. Kobe or Nara, actually both. Well, Nara is enough. It does verge on a miracle that we made it there before the sunset. When drunk or overtired, I tend to be particular silly. Good that those funny deer walk around there everywhere. Just having picked up a cookie with my mouth and about to eat it, one such comical creature approaches me and steals it barefacedly by skilful snapping. Silly Lars.
I'm exhausted. Today we navigated heavily packed through Osaka towards the castle. We found it. Even good. And no we are sitting at Kansai airport. Tomorrow morning our plane leaves to Singapore, the day after to Kuala Lumpur. Yes, Visitors J urgently need holidays because it is cold in Japan and we don't have any winter clothes. We don't need more reasons for that. However, we won't shirk responsibility. No, no leaning back, no breathing, maybe having a good night's sleep again, but only if my constraint to canniness allows it.