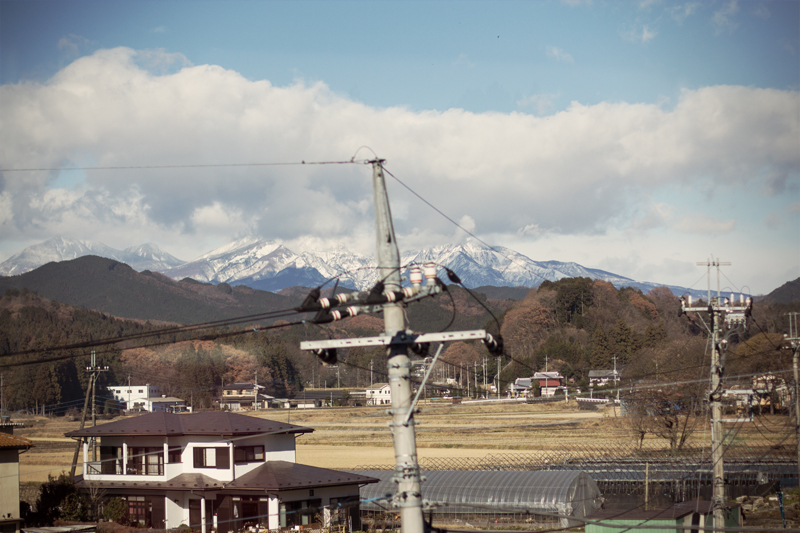 Wenn zwei Franzosen und zwei Deutsche auf Reisen gehen, gibt es nur zwei Möglichkeiten: Entweder wird über die Kriegsschuld debattiert oder es wird sich gegenseitig hemmungslos angeschwult.
Auf der Zugfahrt nach Nikko im Norden Tokios war die Luft draußen kalt und klar, im Innern aber schwül und warm. Der ungewohnt frühe Aufbruch tat der ausgelassenen Stimmung keinen Abbruch. In der Ferne war Mt. Fuji in seiner weißen Pracht zu bestaunen. Das unerwartete Wiedersehen brachte Erinnerungen an die Besteigung im September mit sich.
Nach eineinhalb Stunden Zugfahrt war von Tokio nichts mehr zu sehen. Die Landschaft wandelte sich, aus Hochhäusern wurden kleine Einfamilienhäuser, Holzhütten, Verschläge. Üppige Graslandschaften waren kurzerhand schneebedeckt und die Vorfreude stieg.
Vom Bahnhof Nikko war die Idylle schon aus einiger Ferne ersichtlich. Entlang der Hauptstraße durch angetauten Schnee tapsen, die Sonne als ständiger Begleiter. Massive Schreintore wiesen uns den Weg zu den bekannten Sehenswürdigkeiten vergangener Perioden. Doch die Abenteuerlust trieb uns weiter in den Wald hinein. Die heimatlichen Instinkte erweckten ein für Monate in Vergessenheit geratenes Gefühl in mir wieder. So trieb es mich die Berge hinauf, durch immer tieferen Schnee, mit immer schnellerem Puls, bis ich die anderen verlor.
Und dann kam doch die Einsicht, dass an einem bestimmten Punkt Schluss sein muss. Ob es ein Sonnenuntergang oder ein Lebensabschnitt ist, spielt keine Rolle. Kalte Füße, heißer Kopf.
---
When two French and two German guys go travelling, there are only two possibilities: Either you debate the war guilt or there is corybantic gaying-around.
On the train ride to Nikko in the north of Tokyo, the air was cold and clear outside, but humid and warm inside. Departing early in the morning didn't affect the loose atmosphere. In the far you could marvel at Mt Fuji and his all-white magnificence. Meeting him again after the ascent in September brought back the memories.
After one and a half hours train, there was nothing more to see of Tokyo. The landscape changed, skyscrapers became small family homes, wooden huts, sheds. Vast grasslands were covered in snow from one moment to another and the anticipation rose.
At Nikko station you could already see the idyll from afar. Lumbering through the snow along the main street, the sun our steady companion. Massive shrine gates guided us the way to the famous sites of past periods. However, knight errantry led us further inside the woods. The native instincts recalled a feeling in me that had fallen into oblivion for months. So I floated up the mountains, through deeper and deeper snow, the pulse rising constantly, until I lost the others.
And then finally I realised that you need to put an end at a certain point. It doesn't matter whether it's a sunset or a phase of life. Cold feet, hot head.